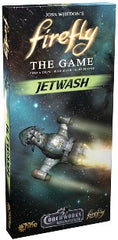 Firefly Jetwash
Product is currently unavailable. Please email us @ info[at]woodforsheep.ca with Subject: ORDER Firefly Jetwash and we will notify you once this item becomes available. Request Deposit required.
Ages: 13+
Players: 3-5
Playing Time: 120 minutes
Designer: Aaron Dill, John Kovaleski, Sean Sweigart
Publisher: Gale Force 9
Requires: Firefly
If you need cargo delivered quickly and quietly, the Jetwash is the ship for you. Like all Series IV Firefly vessels, the Jetwash boasts an expansive cargo bay, with room to spare for any load. Taking inspiration from the late Hoban Washburne, the Jetwash befits its namesake: fast, with plenty of tricks up its sleeve.
Expansion | Logistics | Resource Management | Sci-fi | Space | Spin-off