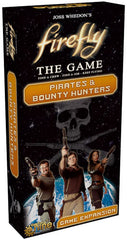 Firefly Pirates & Bounty Hunters
Product is currently unavailable. Please email us @ info[at]woodforsheep.ca with Subject: ORDER Firefly Pirates & Bounty Hunters and we will notify you once this item becomes available. Request Deposit required.
Ages: 13+
Players: 3-4
Playing Time: 120 minutes
Designer: Aaron Dill, John Kovaleski, Sean Sweigart
Publisher: Gale Force 9
Requires: Firefly
Introduce a heavy dose of player verses player interaction to the 'Verse.
Raid rival's ships and loot their Cargo Holds with Piracy Jobs. Hunt down wanted fugitives to collect lucrative Bounties. Ready your Crew for Showdowns with brand new Supply Cards. Explore the 'Verse with two new ships, the Interceptor and S.S. Walden. Choose from two new Leaders who specialize in anti-social strategies and hire on Lawmen to reward those who bring justice to the 'Verse.
Expansion | Logistics | Resource Management | Sci-fi | Space | Spin-off