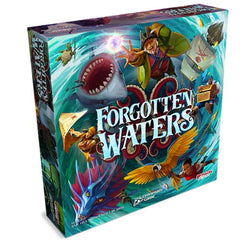 Forgotten Waters
Product is currently unavailable. Please email us @ info[at]woodforsheep.ca with Subject: ORDER Forgotten Waters and we will notify you once this item becomes available. Request Deposit required.
Ages: 14+
Players: 3-7
Playing Time: 120-240 minutes
Designer: Mr. Bistro, J. Arthur Ellis,
Isaac Vega
Publisher: Plaid Hat Games
A world of fantastical pirate adventures.
Players take on the role of pirates sailing together on a ship, attempting to further their own personal stories as well as a common goal. The world is silly and magical, with stories designed to encourage players to explore and laugh in delight as they interact with the world around them. It's a game in which every choice can leave a lasting impact on the story, and players will want turn over every rock just to see what they find.
Adventure | Cooperative | Exploration | Pirates | Scenarios | Story Telling