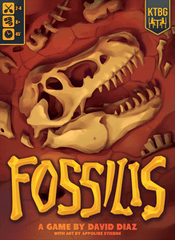 Fossilis
Product is currently unavailable. Please email us @ info[at]woodforsheep.ca with Subject: ORDER Fossilis and we will notify you once this item becomes available. Request Deposit required.
Ages: 8+
Players: 2-5
Playing Time: 45-60 minutes
Designer: David Alberto Diaz
Publisher: Kids Table Games
An incredible new dinosaur graveyard has been discovered, and if the early findings are any indication, it could be a treasure trove of fossils and bones like the world has never seen! Players become paleontologists working the dig site with shovels, whisk brooms, and chisels looking for a find that could make their career.