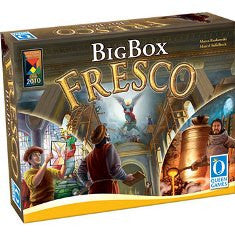 Fresco Big Box
Product is currently unavailable. Please email us @ info[at]woodforsheep.ca with Subject: ORDER Fresco Big Box and we will notify you once this item becomes available. Request Deposit required.
Ages: 10+
Players: 2-4
Playing Time: 45-60 minutes
Designer: Wolfgang Panning, Marco Ruskowski, Marcel Süßelbeck
Publisher: Queen Games
The ceiling in the cathedral is getting on a bit and is in urgent need of restoration. The bishop is awaiting important visitors and wants to show off his church from its best side. The players slip into the role of the fresco painters in this colourful family game and have to prove their abilities: But only the player who plans cleverly can win!
The Big Box contains all of the material from the original Fresco game, plus all expansions released through the end of 2012! You can play without expansions for a lighter family game, or add in expansions - whether one, two, or all - to vary play and to increase the decision-making and difficulty, resulting in a very flexible game with a high replay value.