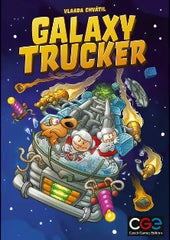 Galaxy Trucker (2021)
Product is currently unavailable. Please email us @ info[at]woodforsheep.ca with Subject: ORDER Galaxy Trucker (2021) and we will notify you once this item becomes available. Request Deposit required.
Ages: 8+
Players: 2-4
Playing Time: 20-30 minutes
Designer: Vlaada Chvátil
Publisher: Czech Games Edition
Build a space ship and fly across the Galaxy. Transport goods. Fight pirates. Dodge meteors. Watch fellow players' ships explode as you fly on to victory! Load up for an intense, humor-filled haul. It's an absolute blast!