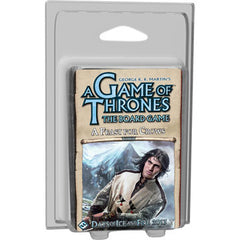 Game of Thrones (2011) Feast For Crows
Product is currently unavailable. Please email us @ info[at]woodforsheep.ca with Subject: ORDER Game of Thrones (2011) Feast For Crows and we will notify you once this item becomes available. Request Deposit required.
Ages: 12+
Players: 3-5
Playing Time: 180 minutes
Designer: Christian T. Petersen, Kevin Wilson
Publisher: Fantasy Flight Games
Requires: Game of Thrones
"If they are never certain who you are or what you want, they cannot know what you are like to do next. Sometimes the best way to baffle them is to make moves that have no purpose, or even seem to work against you. Remember that, Sansa, when you come to play the game." - Littlefinger, A Storm of Swords
When their ambitions conflict, the houses of Westeros collide! A Feast for Crows is a special scenario for A Game of Thrones: The Board Game Second Edition that provides players with a compelling new four-player scenario. Introducing an alternate victory condition, shortened play time, and a set of playable House cards for House Arryn, A Feast for Crows offers a chance to experience the game in a variety of new and exciting ways.
Area Control | Combat | Expansion | Fantasy | Fantasy Flight Games | Spin-off