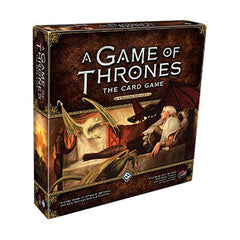 Game of Thrones LCG (2015)
Product is currently unavailable. Please email us @ info[at]woodforsheep.ca with Subject: ORDER Game of Thrones LCG (2015) and we will notify you once this item becomes available. Request Deposit required.
Ages: 14+
Players: 2-6
Playing Time: 60-120 minutes
Designer: Nate French, Eric M. Lang
Publisher: Fantasy Flight Games
The world of Westeros is wracked with war, intrigue, and strife. The Great Houses muster armies and meet in titanic battles, while their assassins and spies struggle in the shadows. Across the Narrow Sea, the first dragons in years have awoken, while in the barren lands beyond the Wall, a nameless threat is stirring, eager to crush the world with freezing cold and endless night. Westeros is unforgiving of mistakes, and in the end, only one game truly matters: the game of thrones!
This new edition featuring cunning plots, iconic characters, and deadly encounters for two to six players. Set in the world of George R.R. Martin's A Song of Ice and Fire, every game invites you to take command of iconic factions and battle for power. You must best your opponents to claim the Iron Throne, defeating them on the field of battle, outwitting them in the intrigues of court, or stealing their power in the political arena. Whether you play a two-player joust or a multiplayer melee, this LCG* invites you to battle for control of Westeros.
* Living Card Game