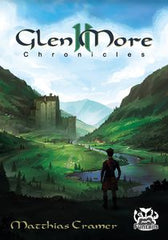 Glen More II Chronicles
Product is currently unavailable. Please email us @ info[at]woodforsheep.ca with Subject: ORDER Glen More II Chronicles and we will notify you once this item becomes available. Request Deposit required.
Ages: 12+
Players: 2-4
Playing Time: 90-120 minutes
Designer: Matthias Cramer
Publisher: Funtails
Each player represents the leader of a Scottish clan from the early medieval ages until the 19th century, a leader looking to expand their territory and wealth. The success of your clan depends on your ability to make the right decision at the right time, be it by creating a new pasture for your livestock, growing barley for whisky production, selling your goods on the various markets, or gaining control of special landmarks such as lochs and castles.
City Building | Economic | Set Collection | Speculation | Tiles