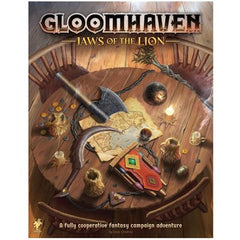 Gloomhaven Jaws of the Lion
Product is currently unavailable. Please email us @ info[at]woodforsheep.ca with Subject: ORDER Gloomhaven Jaws of the Lion and we will notify you once this item becomes available. Request Deposit required.
Ages: 14+
Players: 1-4
Playing Time: 30-120 minutes
Designer: Isaac Childres
Publisher: Cephalofair Games
Requires: Gloomhaven (optional)
A fully stand-alone and cooperative campaign game of tactical combat set in the same unique fantasy world as its predecessor.
Players will assume the roles of 4 new hardened mercenaries and work together to fight through a new prequel campaign full of choices, challenges, and twists.
New built in tutorials, Learn-to-Play Guide, and play-surface scenario books allow players to jump into the action more quickly and easily than ever before.
Adventure | Combat | Cooperative | Exploration | Fantasy | Legacy | Resource Management