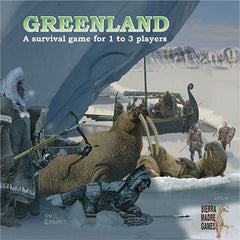 Greenland
Product is currently unavailable. Please email us @ info[at]woodforsheep.ca with Subject: ORDER Greenland and we will notify you once this item becomes available. Request Deposit required.
Ages: 12+
Players: 1-3
Playing Time: 90 minutes
Designer: Phil Eklund, Philipp Klarmann
Publisher: Sierra Madre Games
Imagine three cultures, as different from each other as they could possibly be, are washed up on a desert island, an island inhabited by the world's largest and most ferocious predators. Imagine that each of the cultures each have survival secrets the others desperately need. Imagine contact with the outside world is cut off. Welcome to Greenland in 1200 AD.
The three players, representing the Tunit, Viking , and Thule tribes, send hunters to gather food and fuel to support their children, elders, and livestock while collecting victory points by wiping out competing species or gathering resources. Each turn is one generation long. Historically, the climate turned frigid and all but the Thule (Inuit) died out.