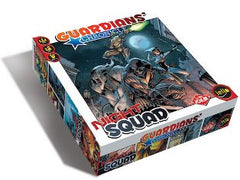 Guardians Chronicles Night Squad
Product is currently unavailable. Please email us @ info[at]woodforsheep.ca with Subject: ORDER Guardians Chronicles Night Squad and we will notify you once this item becomes available. Request Deposit required.
Ages: 14+
Players: 2-5
Playing Time: 75 minutes
Designer: Frédérick Condette
Publisher: Iello
Requires: Guardian's Chronicles
A new team has arrived! Fortunately for the citizens, the Liberty Patrol is not the only group of superheroes fighting the menaces that keep us vigilant. Here comes THE NIGHT SQUAD!
This expansion sets the stage for a new group of heroes, taking their turn in the pursuit of Doktor Skarov.
Combat | Expansion | Modular Board | Superheroes | Team Play