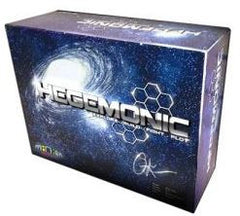 Hegemonic
previously $79.99
Product is currently unavailable. Please email us @ info[at]woodforsheep.ca with Subject: ORDER Hegemonic and we will notify you once this item becomes available. Request Deposit required.
Ages: 13+
Players: 2-6
Playing Time: 180 minutes
Designer: Oliver Kiley
Publisher: Minion Games
It is a momentous time for the Post-Human Assembly. Having populated the Milky Way, the Great Houses turn their eyes towards a neighboring galaxy, endeavoring to venture across the inter-galactic void to stake claim among uncharted stars. Each Great House seeks dominance, for in the race to achieve hegemony only one will be victorious.
Hegemonic is a game of galactic exploration, empire building, conflict, and cunning that's playable in 30-45 minutes per player. Each player assumes the role of a Great House Leader, exploring sectors of the new galaxy; building industrial, political, and martial systems; employing far-reaching technologies; and performing calculated actions to leverage their power. The game scales from 2-6 players and uses a modular board system to create a balanced and highly replayable experience.
Combat | Exploration | Modular Board | Resource Management | Sci-fi | Space