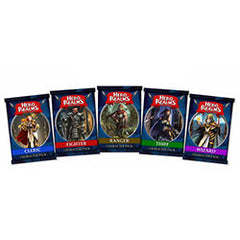 Hero Realms Character Pack Bundle
Product is currently unavailable. Please email us @ info[at]woodforsheep.ca with Subject: ORDER Hero Realms Character Pack Bundle and we will notify you once this item becomes available. Request Deposit required.
Ages: 12+
Players: 2-4
Playing Time: 20-30 minutes
Designer: Darwin Kastle, Rob Dougherty
Publisher: White Wizard Games
Requires: Hero Realms
Play as a Cleric, Fighter, Ranger, Thief, or Wizard!
Add a cool new dimension to player vs player games. Each match-up is a unique challenge which will require different strategies.
Bundle | Combat | Deck Construction | Expansion | Fantasy