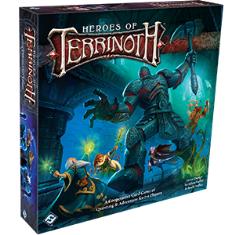 Heroes of Terrinoth
Product is currently unavailable. Please email us @ info[at]woodforsheep.ca with Subject: ORDER Heroes of Terrinoth and we will notify you once this item becomes available. Request Deposit required.
Ages: 14+
Players: 1-4
Playing Time: 30-60 minutes
Designer: Brady Sadler, Adam Sadler
Publisher: Fantasy Flight Games
Strike back at the foes of the realm!
In this cooperative card game of questing and adventure, one to four players take on the roles of unique heroes who must unite, to face deadly villains, navigate treacherous terrain, and defend the realm to earn fame and fortune! Terrinoth needs champions- do you have what it takes?
Adventure | Cooperative | Fantasy | Fantasy Flight Games | Variable Player Abilities