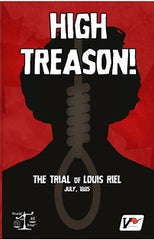 High Treason
Product is currently unavailable. Please email us @ info[at]woodforsheep.ca with Subject: ORDER High Treason and we will notify you once this item becomes available. Request Deposit required.
Ages: 13+
Players: 2
Playing Time: 30-45 minutes
Designer: Alex Berry
Publisher: Victory Point Games
A two-player, 40-minute card game where the players lead the prosecution or defense of one of history's heroic and tragic figures. The deck is stacked for the prosecution, but the burden required for a hanging conviction is as high as the gallows. You will question prospective jurors and dismiss those least helpful to your case, after which the trial begins in earnest. There are many paths to victory: Swaying the jurors personally and "locking" them into your outlook; swaying the jurors on key personal matters such as their language, religion, and occupations. The prosecution must also present evidence of guilt and rebut evidence of insanity, while the defense must do the opposite. When the trial is over, the jurors deliberate and score their verdict to determine the fate of the defendant, Louis Riel.
Can you triumph on the courtroom stage with a man's life at stake?