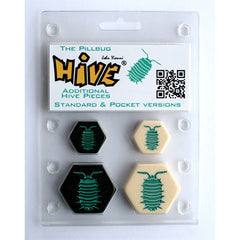 Hive Pillbug
Product is currently unavailable. Please email us @ info[at]woodforsheep.ca with Subject: ORDER Hive Pillbug and we will notify you once this item becomes available. Request Deposit required.
Ages: 9+
Players: 2
Playing Time: 20 minutes
Designer: John Yianni
Publisher: Gen 42
Requires: Hive or Hive Pocket
The Pillbug moves one space at a time,but has a special ability it may use instead of moving.
The special ability allows the Pillbug to move an adjacent piece (friend or enemy)two spaces up onto itself and then down into another empty space adjacent to itself.