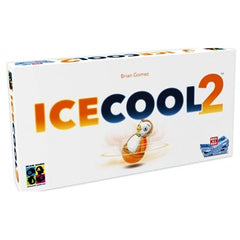 Ice Cool 2
Product is currently unavailable. Please email us @ info[at]woodforsheep.ca with Subject: ORDER Ice Cool 2 and we will notify you once this item becomes available. Request Deposit required.
Ages: 6+
Players: 2-4
Playing Time: 20 minutes
Designer: Brian Gomez
Publisher: Brain Games Publishing
Requires: Ice Cool (optional)
Both a standalone game and an expansion.
If played on its own, this differs from the original game thanks to:
Tasks on 1-point cards
Fish-moving power on 2-point cards
Optional tournament scoring
Combined with the original, you get:
Multiple new layouts
New game mode called "The Race"
Games playable for up to eight players
Chance to create your own new layouts