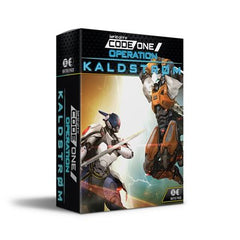 Infinity CodeOne Operation Kaldstrom
Product is currently unavailable. Please email us @ info[at]woodforsheep.ca with Subject: ORDER Infinity CodeOne Operation Kaldstrom and we will notify you once this item becomes available. Request Deposit required.
Ages: 12+
Players: 2
Playing Time: 60 minutes
Designer:
Publisher: Corvus Belli
A box containing 14 miniatures belonging to two different armies, an introductory ruleset, cardboard scenery, dice—everything you need to start playing or just to complete your collection!
Includes a full color rulebook with 5 tutorial missions to teach you how to play, making it easy to understand the core mechanics.
In this booklet you will also find the background and troop profiles of all the troops in the Battle Pack. There is also a brief guide to the Infinity universe and advice on exploring it in more detail.
Contains 2 totally new Starter Packs of two brand new factions: PanOceania the hyperpower of the Infinity universe, and Yu Jing, PanOceania's main contender, its perpetual opponent. A total of 14 highly detailed metal miniatures!