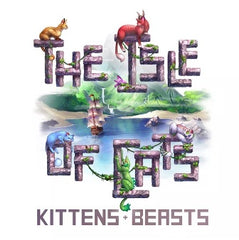 Isle of Cats Kittens + Beasts
Product is currently unavailable. Please email us @ info[at]woodforsheep.ca with Subject: ORDER Isle of Cats Kittens + Beasts and we will notify you once this item becomes available. Request Deposit required.
Ages: 8+
Players: 1-6
Playing Time: 60-90 minutes
Designer: Frank West
Publisher: City of Kings
Requires: Isle of Cats
Yanna Stormtree has sent word that many of her ancient friends had travelled to the Isle of Cats seeking refuge and now they are in danger. It is time to return to the island and experience 3 brand new modules that can be played in any combination.
Animals | Cats | Draft | Expansion | Pattern Building | Puzzle | Set Collection | Solo Mode | Tiles