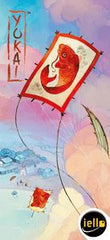 Kanagawa Yokai
Product is currently unavailable. Please email us @ info[at]woodforsheep.ca with Subject: ORDER Kanagawa Yokai and we will notify you once this item becomes available. Request Deposit required.
Ages: 10+
Players: 2-4
Playing Time: 45 minutes
Designer: Bruno Cathala, Charles Chevallier
Publisher: Iello
Some of the cards in this expansion include a yokaï symbol that is visible whether you place the card in your painting or in your studio. When you place such a card, you take a yokaï marker from the reserve or from another player, and if you collect all three such markers, you receive a reward. You hope that someone else will claim them later, though, because players with yokaï markers at the end of the game lose points.
Art | Draft | Expansion | Set Collection