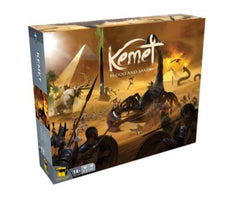 Kemet Blood and Sand
Product is currently unavailable. Please email us @ info[at]woodforsheep.ca with Subject: ORDER Kemet Blood and Sand and we will notify you once this item becomes available. Request Deposit required.
Ages: 13+
Players: 2-5
Playing Time: 90-120 minutes
Designer: Jacques Bariot, Guillaume Montiage
Publisher: Matagot
Faith, magic, and war are one and the same. Only one god will dominate. An endless ocean of sand crossed only by the rushing waters of the Nile, Ancient Egypt is a dangerous place ruled by mighty gods. Vast though this domain may be, the time for sharing power is over...the time for blood and the eternal glory of battle has come!
Become an Egyptian God, throw open the gates of your city as your troops march forth singing the song of war, and claim your rightful place as master of the black lands of Kemet.