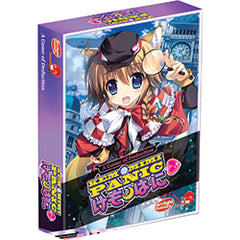 Kemomimi Panic
Product is currently unavailable. Please email us @ info[at]woodforsheep.ca with Subject: ORDER Kemomimi Panic and we will notify you once this item becomes available. Request Deposit required.
Ages: 16+
Players: 4-8
Playing Time: 45 minutes
Designer: Masayuki Kudou
Publisher: Japanime
A cute, fun, fast-paced game of deduction for 4-8 players!
Mokemoke is the home of beastly beauties who have dear treasures, and someone is after them! Who is The Great Thief Crescent Moon? The fate of this town depends on your powers of deduction!
Anime | Big Group | Deduction | Mafia Variant | Party