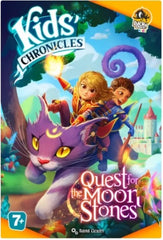 Kids' Chronicles Quest for the Moon Stones
Product is currently unavailable. Please email us @ info[at]woodforsheep.ca with Subject: ORDER Kids' Chronicles Quest for the Moon Stones and we will notify you once this item becomes available. Request Deposit required.
Ages: 7+
Players: 1-4
Playing Time: 30-45 minutes
Designer: David Cicurel
Publisher: Lucky Duck Games
A family, co-operative game of adventure and mystery investigation, mixing a board game and app.
As magicians' apprentices, players dive into the fairy tale lands of the Kingdom of Summer and the Winter Empire. Accompanied by the faithful familiar, Nills The Moon Cat, they embark on a quest to find four magical Moon Stones. To achieve their goal, young magicians have to solve numerous mysteries and help inhabitants of both Kingdoms overcome their problems.
Child Appropriate | Cooperative | Digital App Support | Exploration | Fantasy | Scenarios | Solo Mode