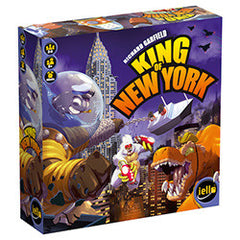 King of New York
Product is currently unavailable. Please email us @ info[at]woodforsheep.ca with Subject: ORDER King of New York and we will notify you once this item becomes available. Request Deposit required.
Ages: 8+
Players: 2-6
Playing Time: 40 minutes
Designer: Richard Garfield
Publisher: Iello
New City. New Rules. New Monsters. Same Fight.. to be the King!
There's always something happening in the city that never sleeps. Maybe it's the lights, maybe it's the energy, or maybe it's the giant monsters trying to demolish the place!
New ways to play, while still keeping the core ideas of King of Tokyo. There are buildings to stomp! Vengeful military units to destroy! 6 brand new monsters! Every roll of the dice might mean that your monster feels the OUCH, as military units open fire.
Will you grab the spotlight, and become a celebrity Superstar? or will you become the defender of the city, and befriend Lady Liberty?
Each of New York's boroughs has its own charms, but to truly rule the Big Apple, you have to control Manhattan. Defeat the other monsters and rule the city.... Become the King of New York!