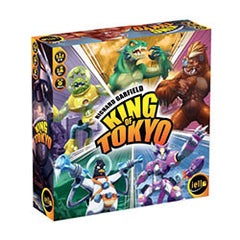 King of Tokyo (2016)
Product is currently unavailable. Please email us @ info[at]woodforsheep.ca with Subject: ORDER King of Tokyo (2016) and we will notify you once this item becomes available. Request Deposit required.
Ages: 8+
Players: 2-6
Playing Time: 30 minutes
Designer: Richard Garfield
Publisher: Iello
A game for 2 to 6 players where you play as mutant monsters, rampaging robots, or even abominable aliens battling in a fun, chaotic atmosphere. Roll dice and choose your strategy: Will you attack your enemies? Heal your wounds? Improve your Monster? Stomp your path to victory!
This new edition of the best-seller boasts new artwork, clearer rules, and revamped card abilities. Monsters have a new look, and the coveted Space Penguin character takes his place in Tokyo!