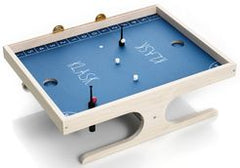 Klask
Product is currently unavailable. Please email us @ info[at]woodforsheep.ca with Subject: ORDER Klask and we will notify you once this item becomes available. Request Deposit required.
Ages:
Players: 2
Playing Time: 10 minutes
Designer: Mikkel Bertelsen
Publisher: Foxmind
The purpose of the game is to push the small, red ball around on the field with your magnet/gaming piece, shoot the ball past the obstacles and your opponent and into the goal hole. It's so much fun when your opponent suddenly is covered in white obstacles or you drop your gaming piece into the goal – something which might happen if you get a little too eager!