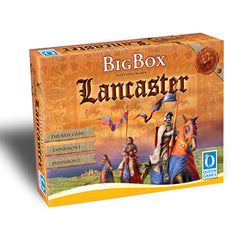 Lancaster Big Box
Product is currently unavailable. Please email us @ info[at]woodforsheep.ca with Subject: ORDER Lancaster Big Box and we will notify you once this item becomes available. Request Deposit required.
Ages: 10+
Players: 2-5
Playing Time: 60 minutes
Designer: Matthias Cramer, Wolfgang Panning
Publisher: Queen Games
In 1413, the new king of England, Henry V of Lancaster, has ambitious plans: The unification of England and the conquest of the French crown!
Each player takes the role of the head of an ambitious aristocratic family. Secure your family's legacy and provide the best support for the young king and become the most powerful Lord of the realm. In Lancaster, if you use your resources strategically and wisely, you can progress from being a simple Lord to being the most powerful ally of the king.
Area Control | Bundle | Kennerspiel des Jahres Nominee | Role/Phase Selection | Voting