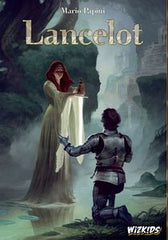 Lancelot {C}
Ages: 14+
Players: 2-4
Playing Time: 60-90 minutes
Designer: Mario Papini
Publisher: Wiz Kids Games
In the Court of King Arthur, you are the Knights that prove their individual valor by performing heroic deeds, setting out on the quest for the Grail, and obtaining the Knightly Virtues...The goal? To be elected First Knight – Lancelot – he who will steal the heart of Queen Guinevere.
You will travel the lands of ancient Britain, courting ladies and defeating enemy knights to gain Knightly Virtues. You will walk other paths to fulfill quests. You will meet the Lady of the Lake and as reward, she will gift you the legendary sword, Excalibur. And Excalibur will keep you safe for as Merlin may be your ally, your true enemy will be Morgana!
You can move pieces at your own pace but don't fall too far behind as others may grab the resources you need. The winner will be called Lancelot.