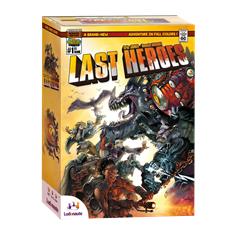 Last Heroes {C}
Ages: 12+
Players: 3-5
Playing Time: 30-45 minutes
Designer: Eric Jumel
Publisher: Asmodee Editions
The portal between the kingdom of Limbo and Earth has just opened. Chaos sends its hordes of minions to sow terror ans desolation on our planet. A group of men and women set themselves the goal of protecting Earth.
They are called the Last Heroes. Your squad, consisting of Blind, Echo, Ace, Silent and Tank, has been called urgently.
The portal will only be open for 10 days. The is the time you have to repel this assault of Chaos.
The horde is led by Lieutenants. Each of them has an Artefact with a very high magic power. If you gather them, you will be able to close the portal.