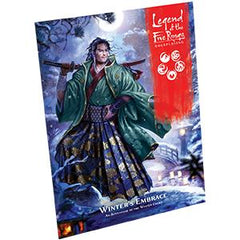 Legend of the Five Rings RPG (2018) Winter's Embrace
Navigate the treacherous intrigues of the Winter Court!
Being invited to the Emperor's Winter Court is daunting enough, but an invitation to tea with the legendary member of the Crane Clan thrusts you into the thick of a devious scheme. Your group is tasked with uncovering the truth behind how a dangerous band of scoundrels from the Mantis Clan secured a coveted invitation to the event, and, more importantly, what plots do they hope to accomplish while they are here.
Visit the beautiful grounds of Kyūden Doji, where you are introduced to the hazards of court politics. As plots begin to unravel around you and you become closer to the truth, you will find that a whispered word can kill as surely as a sword. Can you survive the poisonous rumors and shadow politics of the Winter Court?