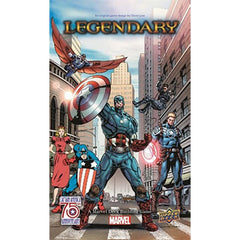 Legendary Captain America 75th Anniversary
Product is currently unavailable. Please email us @ info[at]woodforsheep.ca with Subject: ORDER Legendary Captain America 75th Anniversary and we will notify you once this item becomes available. Request Deposit required.
Ages: 14+
Players: 1-5
Playing Time: 45 minutes
Designer: Devin Low
Publisher: Upper Deck
Requires: Legendary
For seventy-five years, Captain America has battled the Red Skull and his Sleepers, faced M.O.D.O.K. and the Secret Empire, encountered Bucky Barnes as the Winter Soldier, and so much more. Captain America has told iconic tales of suspense and adventure!
A small box, 100-card expansion that focuses on the esteemed legacy of Cap and his fellow comrades that have taken up the mantle of the greatest soldier of all time!
Deck Construction | Expansion | Marvel Legendary | Spin-off | Superheroes