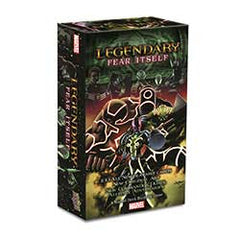 Legendary Fear Itself
Product is currently unavailable. Please email us @ info[at]woodforsheep.ca with Subject: ORDER Legendary Fear Itself and we will notify you once this item becomes available. Request Deposit required.
Ages: 14+
Players: 1-5
Playing Time: 45 minutes
Designer: Devin Low
Publisher: Upper Deck
Requires: Legendary
Play through the "Fear Itself" storyline from Marvel Comics. This expansion consists of six new allies from The Worthy: Kuurth, Mul, Skirn, Nerkkod, Greithoth and Skadi; one new adversary group; one new commander; and three new plots.
Players can work both with and against other players to defeat Iron Man in his Uru Enchanted Armor as he leads the forces of The Mighty while laying waste to planet Earth!
Deck Construction | Expansion | Marvel Legendary | Spin-off | Superheroes