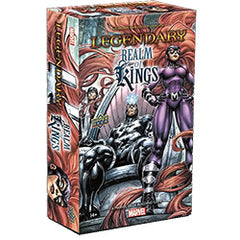 Legendary Realm of Kings
Product is currently unavailable. Please email us @ info[at]woodforsheep.ca with Subject: ORDER Legendary Realm of Kings and we will notify you once this item becomes available. Request Deposit required.
Ages: 14+
Players: 1-5
Playing Time: 45 minutes
Designer: Devin Low
Publisher: Upper Deck
Requires: Legendary
A throne is never safe. Even for the mighty Black Bolt, King of the Inhumans, the challengers from both within and without are many and without mercy.
Command the unearthly powers of the Inhuman Royal Family as you fend off mutinous family members and cosmic conquerors like the Shi'ar Empire. Defend the throne!
Deck Construction | Expansion | Marvel Legendary | Spin-off | Superheroes