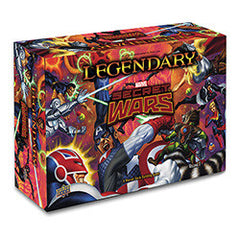 Legendary Secret Wars Vol 1
Product is currently unavailable. Please email us @ info[at]woodforsheep.ca with Subject: ORDER Legendary Secret Wars Vol 1 and we will notify you once this item becomes available. Request Deposit required.
Ages: 14+
Players: 1-5
Playing Time: 45 minutes
Designer: Devin Low
Publisher: Upper Deck
Requires: Legendary
14 new Heroes! 6 new Villain groups! 5 new Masterminds! 8 new Schemes!
Players can work both with and against other players to defeat the various Battleworlds while laying waste to planet Earth!
The game will feature playable characters from the Illuminati, Cabal and favorites from alternate universes including Black Panther, Dr Strange, Namor, Miles Morales, Captain Marvel (Carol Danvers) and Old Man Logan!
Build your team to battle against the various universes in Battleworld including the Domain of Apocalypse, Monster Metropolis, The Deadlands, Limbo and The Wastelands!
For the first time ever players can now play AS the Mastermind against the other players!
Deck Construction | Expansion | Marvel Legendary | Spin-off | Superheroes