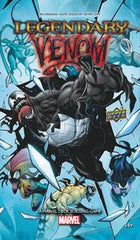 Legendary Venom
Product is currently unavailable. Please email us @ info[at]woodforsheep.ca with Subject: ORDER Legendary Venom and we will notify you once this item becomes available. Request Deposit required.
Ages: 14+
Players: 1-5
Playing Time: 45 minutes
Designer: Devin Low
Publisher: Upper Deck
Requires: Legendary
Expand your experience with all-new poisoned and venomized versions of your favorite heroes and villains! Help Venom and Carnage devour their way through the Marvel Universe, on a collision course with new epic masterminds like Poison Thanos!
Deck Construction | Expansion | Marvel Legendary | Spin-off | Superheroes