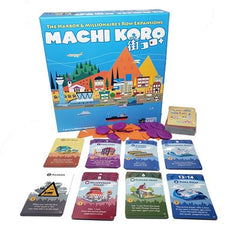 Machi Koro (2019) Expansions
Ages: 10+
Players: 2-5
Playing Time: 90-120 minutes
Designer: Masao Suganuma
Publisher: Pandasaurus Games
Requires: Machi Koro
Contains both previously released expansions:
Harbor: A harbor with fancy boats and sushi bars and a shiny new airport will surely bring more gold to town and more gratitude! Sure, the city might not have the money in its coffers to pay for all this, but that never stopped you before.
Millionaire's Row: Expands the base game with thirteen new establishment cards, including a winery, a moving company and a general store.