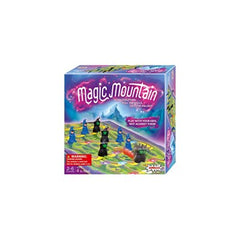 Magic Mountain
Product is currently unavailable. Please email us @ info[at]woodforsheep.ca with Subject: ORDER Magic Mountain and we will notify you once this item becomes available. Request Deposit required.
Ages: 5+
Players: 1-6
Playing Time: 15 minutes
Designer: Jens-Peter Schliemann, Bernhard Weber
Publisher: Amigo
Guide the good wizards safely down the mountain, but watch out for the villains. Work together to chose a track. Every piece the marble hits moves to the next open space of that colour. Everyone wins or loses as a team.
Child Appropriate | Cooperative | Fantasy | Kinderspiel des Jahres Winner | Marbles