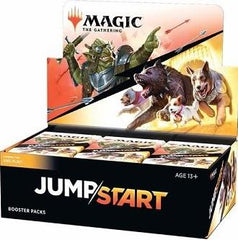 Magic the Gathering Jumpstart Booster Display
Product is currently unavailable. Please email us @ info[at]woodforsheep.ca with Subject: ORDER Magic the Gathering Jumpstart Booster Display and we will notify you once this item becomes available. Request Deposit required.
Ages: 13+
Players: 2+
Playing Time: 30 minutes
Designer: Richard Garfield
Publisher: Wizards of the Coast
A tradeable card game (TCG) where you build your collection of cards by trading with your friends, assembling decks of cards, and battling against an opponent and their deck. You cast powerful spells and summon monstrous creatures aiming to knock your opponent down from 20 life to zero. The game is constantly changing as new cards are released throughout the year. As you get new cards, whether from these new sets or through trading with your friends, you can continuously update your decks and discover a whole new game!
Goblins and Walls. Cats and Phyrexians. Pirates and Unicorns. All together at last.
A new way to play Magic that mashes together themes from throughout the history of the game and lets you skip the deck building part. If you can't wait to have Pirates head into battle with Unicorns, smash two boosters together and ride on. If you absolutely must merge the greatest evils in the multiverse together, Cats and Phyrexian packs are waiting for you.
Booster Display | Combat | Fantasy | Magic the Gathering | MTG | Resource Management