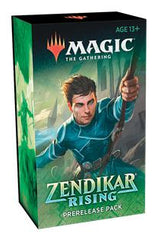 Magic the Gathering Zendikar Rising Prerelease Pack
Ages: 13+
Players: 2+
Playing Time: 30 minutes
Designer: Richard Garfield
Publisher: Wizards of the Coast
A tradeable card game (TCG) where you build your collection of cards by trading with your friends, assembling decks of cards, and battling against an opponent and their deck. You cast powerful spells and summon monstrous creatures aiming to knock your opponent down from 20 life to zero. The game is constantly changing as new cards are released throughout the year. As you get new cards, whether from these new sets or through trading with your friends, you can continuously update your decks and discover a whole new game!
AN ADVENTURE BEGINS
Zendikar calls. A quest awaits. So gather your adventuring party and prepare for perilous challenges and priceless rewards. If you're to find the truth and calm the Roil, you must be bolder than the rest...and just a little reckless.
There are 6 booster packs included in each pack. WoodForSheep will also include 1 additional Zendikar Rising Set booster pack (while quantities last).
Combat | Fantasy | Magic the Gathering | MTG | Resource Management