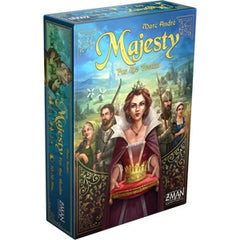 Majesty For the Realm
Product is currently unavailable. Please email us @ info[at]woodforsheep.ca with Subject: ORDER Majesty For the Realm and we will notify you once this item becomes available. Request Deposit required.
Ages: 7+
Players: 2-4
Playing Time: 20-40 minutes
Designer: Marc André
Publisher: Z-man Games
RAISE YOUR BANNERS
The crown is up for grabs to whoever can build the richest domain and seize it from their rivals. It'll take a whole kingdom's worth of people to accomplish this monumental task. Rally your citizens, grow your power, and reign supreme.
A game of strategically selecting who you want to work your lands set during the Middle Ages. Each game, you recruit characters to perform jobs that generate gold for your kingdom. Some characters work better with others, opening many paths to victory. Whether you choose to be a silver-tongued monarch who rules with mercy, or an iron-fisted tyrant who crushes their rivals, the fate of the land rests with you.