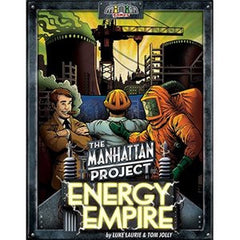 Manhattan Project Energy Empire
Product is currently unavailable. Please email us @ info[at]woodforsheep.ca with Subject: ORDER Manhattan Project Energy Empire and we will notify you once this item becomes available. Request Deposit required.
Ages: 13+
Players: 1-5
Playing Time: 60-120 minutes
Designer: Tom Jolly, Luke Laurie
Publisher: Minion Games
From the ashes of war, nations rise to power in the Atomic Age!
Players take control of a nation struggling for power in the latter part of the 20th century, building up industry, commerce, and government by acquiring resources, erecting structures, and tapping sources of energy. The price of oil is going up, and nuclear energy is the wave of the future. But, the major threat isn't war, but uncertain global impacts that affect all nations. Your actions come with a cost that could spark a global crisis!
Dice Mechanic | Economic | Resource Management | Role/Phase Selection