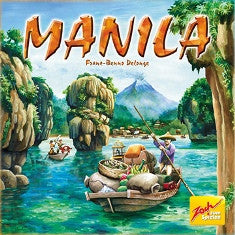 Manila
Product is currently unavailable. Please email us @ info[at]woodforsheep.ca with Subject: ORDER Manila and we will notify you once this item becomes available. Request Deposit required.
Ages: 10+
Players: 3-5
Playing Time: 60 minutes
Designer: Franz-Benno Delonge
Publisher: Zoch Verlag
A spectacular competition for barges, cargo and profits. If you develop a good feel for what wares will reach the destination port, you can become rich. Dodgy merchants send out their accomplices as pirates in order to also profit from "unforeseen accidents". In the meantime, the pilots enrich themselves from the insurance sums for the barges they have capsized… well then, full speed ahead!