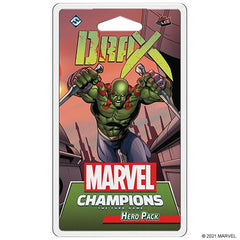 Marvel Champions LCG Drax
Product is currently unavailable. Please email us @ info[at]woodforsheep.ca with Subject: ORDER Marvel Champions LCG Drax and we will notify you once this item becomes available. Request Deposit required.
Ages: 12+
Players: 1-4
Playing Time: 60 minutes
Designer: Michael Boggs, Nate French,
Caleb Grace
Publisher: Fantasy Flight Games
Requires: Marvel Champions LCG
Killed by Thanos in a wicked act of cruelty, Arthur Douglas was reincarnated as Drax, a knife-wielding warrior with a thirst for vengeance. Now a member of the Guardians of the Galaxy, Drax travels far and wide, driven and determined to put an end to the mad titan once and for all.
As a member of the Guardians of the Galaxy, Drax charges into the scene with unrelenting fury in this expansion pack, which introduces Drax as a brand-new playable hero, along with his fifteen signature cards. With a pre-built Protection deck ready to go, you'll be able to try out Drax's unique vengeance-fueled gameplay from the moment you open the box. Punish the villains who wrong you and show them why Drax is a force to be reckoned with!
Cooperative | Expansion | Fantasy Flight Games | Marvel Champions LCG | Spin-off | Superheroes | Variable Player Abilities