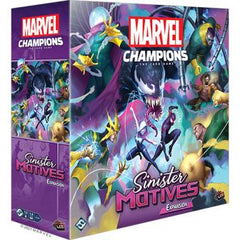 Marvel Champions LCG Sinister Motives
Product is currently unavailable. Please email us @ info[at]woodforsheep.ca with Subject: ORDER Marvel Champions LCG Sinister Motives and we will notify you once this item becomes available. Request Deposit required.
Ages: 12+
Players: 1-4
Playing Time: 60 minutes
Designer: Michael Boggs, Nate French,
Caleb Grace
Publisher: Fantasy Flight Games
Requires: Marvel Champions LCG
"With great power comes great responsibility."
Those six words carry great significance as the driving principle behind one of the greatest heroes ever known: Spider-Man. This web-slinging, wisecracking hero is beloved by many, but he also has his fair share of mortal enemies. Fortunately, Peter Parker is not the only wall-crawler protecting the streets of New York from villains and their sinister schemes…
Take to the streets and rooftops of New York City and face off against a rogues gallery of classic Spider-Man villains, including Sandman, Venom, Mysterio, and the notorious Sinister Six. Play each of these scenarios individually or as part of a larger campaign, and with a sinister spread of new modular encounter sets, there will be ample opportunity to mix things up for all of your games. Includes a new wave of playable heroes for the game, starting with two iconic web-warriors: Ghost-Spider and Spider-Man (Miles Morales), both of whom come with fully pre-built and ready-to-play decks right out of the box.
Cooperative | Expansion | Fantasy Flight Games | Marvel Champions LCG | Spin-off | Superheroes | Variable Player Abilities