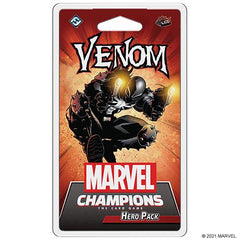 Marvel Champions LCG Venom
Product is currently unavailable. Please email us @ info[at]woodforsheep.ca with Subject: ORDER Marvel Champions LCG Venom and we will notify you once this item becomes available. Request Deposit required.
Ages: 12+
Players: 1-4
Playing Time: 60 minutes
Designer: Michael Boggs, Nate French,
Caleb Grace
Publisher: Fantasy Flight Games
Requires: Marvel Champions LCG
A wartime veteran and an old classmate of Peter Parker, Flash Thompson was fused with the Venom symbiote during Project Rebirth 2.0, the U.S. government's second super-soldier program. Now, Venom travels the galaxy, using his exceptional abilities to take down the forces of evil wherever they may be.
As another member of the Guardians of the Galaxy, Venom swings into action in this expansion pack, which introduces Venom as a brand-new playable hero along with his fifteen signature cards. With a pre-built Justice deck ready to go from the moment you open the box, you'll be able to try out Venom's impressive arsenal right away. Rush in guns blazing and tear your way through the villain's schemes with this high-powered hero!
Cooperative | Expansion | Fantasy Flight Games | Marvel Champions LCG | Spin-off | Superheroes | Variable Player Abilities