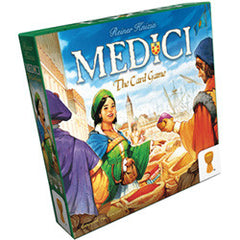 Medici Card Game
Product is currently unavailable. Please email us @ info[at]woodforsheep.ca with Subject: ORDER Medici Card Game and we will notify you once this item becomes available. Request Deposit required.
Ages: 10+
Players: 2-6
Playing Time: 30 minutes
Designer: Reiner Knizia
Publisher: Grail Games
Fast to learn and simple to play, the game is a push-your-luck, set-collection card game. Players will fill their ships with the goods presented at the wharf. They will earn money for having the most valued loads, as well as for majorities of the different goods.