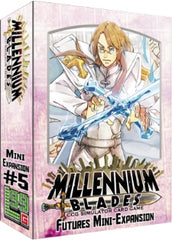 Millennium Blades Futures
Product is currently unavailable. Please email us @ info[at]woodforsheep.ca with Subject: ORDER Millennium Blades Futures and we will notify you once this item becomes available. Request Deposit required.
Ages: 12+
Players: 2-5
Playing Time: 80-120 minutes
Designer: D. Brad Talton Jr
Publisher: Level 99
Requires: Millennium Blades
Includes nine new Promotional Card sets (54 cards) for use with Millennium Blades, featuring characters from up-coming Level 99 Games projects like Seventh Cross, Esper X, Trials of Indines, and Duelist Library.
Combat | Draft | Expansion | Resource Management | Set Collection