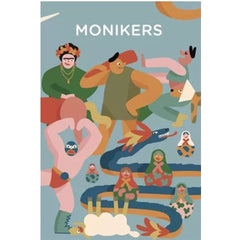 Monikers (2019)
Product is currently unavailable. Please email us @ info[at]woodforsheep.ca with Subject: ORDER Monikers (2019) and we will notify you once this item becomes available. Request Deposit required.
Ages: 18+
Players: 4-20
Playing Time: 60 minutes
Designer: Alex Hague, Justin Vickers
Publisher: Palm Court
Players take turns attempting to get their teammates to guess names by describing or imitating well-known people.
In the first round, clue givers can say anything they want, except for the name itself. For the second round, clue givers can only say one word. And in the final round, clue givers can't say anything at all: they can only use gestures.