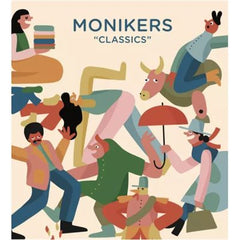 Monikers (2019) Classics
Product is currently unavailable. Please email us @ info[at]woodforsheep.ca with Subject: ORDER Monikers (2019) Classics and we will notify you once this item becomes available. Request Deposit required.
Ages: 18+
Players: 4-20
Playing Time: 60 minutes
Designer: Alex Hague, Justin Vickers
Publisher: Palm Court
Requires: Other Monikers games (optional)
More cards. More options. More fun.